Scrum Tools - A Review - What we use now
You don't need much in the way of tools and software to do Scrum, but that doesn't mean there aren't some great tools out there that can make it a bit easier. Over the next while I'll be taking a look at some of the different free Scrum software that's available to see if it can offer any improvements over our current tools.
Managing the Product Backlog
We currently use a custom list on our Sharepoint intranet for our product backlog. It's highly customisable, so we can add in or remove any fields we want. It's very easy to create custom views, so we can easily see only items in the current iteration or a prioritised list of uncommitted items or only items still be estimated. We can also email out links to specific items or views so that we can easily share information. Everyone in the company knows how to get to it and how to use it.
The downside to it is that it can be very slow to work with. Each page load can take a while and it can take quite a few clicks to get to the relevant screen for editing and adding items. It means that setting the priorities on 15 items can take about 10 minutes.
Tracking Burndown
We use Excel to keep track of how many hours remain on each task in an iteration. This works fairly well but it would be nice to have all Scrum-related data in the same tool.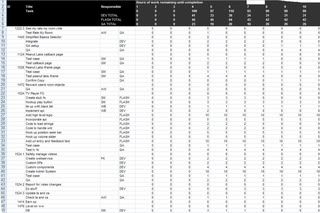 What are we looking for?
The first evaluation will be done by me and my Scrum Master colleague. We'll be looking for tools that allow us to have both product and sprint backlog management in one tool and allows Product Owners to easily update and prioritise the product backlog. It's also fairly important that you can create custom views or filters of the pbl and that you can send out a link to individual user stories or views in an email.
Next time I'll be looking at Danube ScrumWorks Basic.